The Transnet Phelophepa Healthcare Train will be available in Ashton from 17th - 21st May and 24th - 28th May 2021 to provide a range of medical and related services to all the communities of the Langeberg.
The aim of the train is to support the Department of Health as well as providing low-cost, high-quality medical care to the rural poor, that is not available at clinics. The train is operated on a day-to-day basis by a team of professionals at the Ashton Station.
PLEASE COME EARLY. We operate on a first-come first-serve basis. Bring along your clinic card and Immunisation card for kids. The Monday and Tuesday are useally the best days to come as the masses useally start coming in from day 3.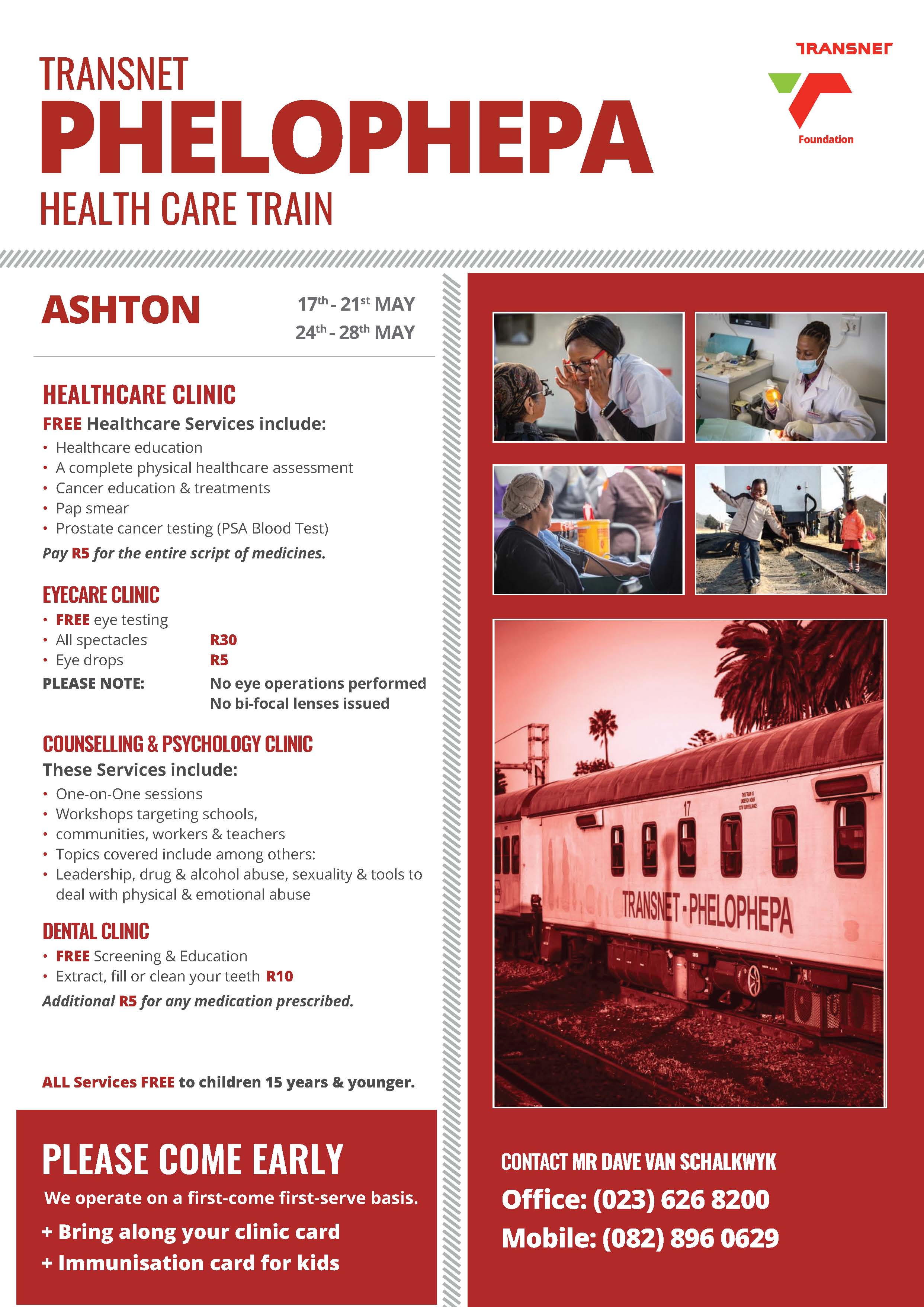 The services provided include:
HEALTHCARE CLINIC
FREE Healthcare Services include:
• Healthcare education
• A complete physical healthcare assessment
• Cancer education & treatments
• Pap smear
• Prostate cancer testing (PSA Blood Test)
Pay R5 for the entire script of medicines.
COUNSELLING & PSYCHOLOGY CLINIC
These Services include:
• One-on-One sessions
• Workshops targeting schools,
• communities, workers & teachers
• Topics covered include among others:
• Leadership, drug & alcohol abuse, sexuality & tools to
• deal with physical & emotional abuse
DENTAL CLINIC
• FREE Screening & Education
• Extract, fill or clean your teeth R10
Additional R5 for any medication prescribed.
EYECARE CLINIC
• FREE eye testing
• All spectacles R30
• Eye drops R5
PLEASE NOTE: No eye operations performed and No bi-focal lenses issued.
ALL Services FREE to children 15 years & younger.
More information about the Transnet Phelophepa Health Care Train can be obtained from Dave van Schalkwyk at Langeberg Municipality at 023 626 8200 or 082 8960 629 or This email address is being protected from spambots. You need JavaScript enabled to view it..