The Langeberg Municipality's cashier offices used to be the primary location where residents could buy electricity or pay municipal accounts. Now, buying pre-paid electricity or paying your municipal account is quick and easy and it can be done from any location, through a variety of online platforms, or at a nearby shop. Gone are the days of standing in long queues, as residents can now make use of Langeberg Municipality's alternative methods for convenient payments and purchases.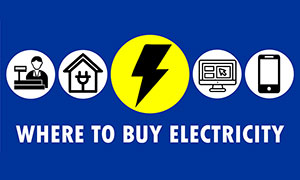 Please note that you to have your meter number and/or account number at hand when making use of these platforms.
Paying Your Municipal Account
Your municipal account can be paid via online banking, by adding the municipality as a beneficiary, or by making a direct deposit at your nearest bank. Once you have registered, another online alternative, EasyPay, can be used to pay your municipal account. You can also pay your municipal account and/or buy electricity at Pick 'n Pay, Usave and Shoprite.
Banking Details of Langeberg Municipality
ACCOUNT NAME: LANGEBERG MUNICIPALITY
BANK: ABSA
BRANCH: MONTAGU
ACCOUNT NO: 105 000 000 8
BRANCH CODE: 334 513
REFERENCE: YOUR MUNICIPAL ACCOUNT NUMBER
SWIFT CODE: ABSA ZA JJ
Buying Pre-Paid Electricity
To purchase electricity, residents can make use of banking apps or online banking services, if the option is offered by their selected bank. Once registered, EasyPay, PayCity and Prepaid24 are additional online platforms which residents can use to purchase electricity. In addition, pre-paid electricity can also be bought from several vendors in the municipal area. These vendors are listed below.
Consumers are requested to report vendors who impose a prerequisite for other goods to first be purchased, before consumers can buy electricity. Lodge complaints to Bjorn Cavernelis at 023 615 8000 or via e-mail This email address is being protected from spambots. You need JavaScript enabled to view it.
Langeberg Municipality Electricity Vendor List

Vendors

Address

Ashton

Ashton Mini Market

1 Coronation Avenue, Ashton

Ashton Minimark

1 Karee Avenue, Ashton

Freddie Hlapezule

Dg214, Mbeka Avenue, Ashton, Zolani

Kiki Spaza Shop

20 Dahlia Street, Ashton

Nasser Shop

28 Matoti Avenue, Zolani, Ashton

The Poormans Friend

70 Coronation Avenue, Ashton

Uitspan Kafee

Uitspan Street, Ashton

Usave Ashton

R62 Platform, Ashton

Bonnievale

Bella Vista

104 Main Road, Bonnievale

Bonnivale Multisave

66 Main Road Bonnievale

Gum Grove Superette

1 Milner Street, Bonnievale

Mountain View

Almeria Avenue, Bonnievale

Usave Bonnievale

107 Main Road, Bonnievale

McGregor

Welcome Café

37 Kantoor Street, Mcgregor

Montagu

Ashbury Superette

48 Eike Avenue, Ashbury

Busy Corner Montagu

75 Karee Avenue , Ashbury, Montagu

Happy Shop

38 Jakaranda Avenue, Montagu

Montagu Mini Market

1 Bad Street, Montagu

Montagu Minimark

75 Bath Street, Montagu

Montagu Superette

16d Sitrus Avenue, Ashbury, Montagu

Spar Montagu

Cnr. Long Street and Du Toit Street, Montagu

Usave Montagu

16 Citrus Avenue, Montagu

Robertson

Arcadia Café

30 Church Street, Robertson

Dagbreek Kafee

4 Vygie Avenue, Dagbreek, Robertson

Dorpsig Fruits

3 Bergsig Street, Robertson

Habipi Mini Market

7 Luthuli Street, Nkqubela

JS Cafe

30 Paddy Street, Robertson

M4 Winkel

67 Polack Street, Robertson

Panorama Fruits

27 Watsonia Street, Robertson

Pick 'N Pay Robertson

33 Church Street, Robertson

Protea Supermarket

1 Wesley Street, Robertson

Shell Robertson

52 Voortrekker Road, Robertson

Shoprite Robertson

4 Van Reenen Street, Robertson

Shshmanne Pink Cafe

59 Paddy Street, Dorpsig, Robertson

Sonskyn Cafe

29 Paul Kruger Street, Robertson

Spar Robertson

Cnr. Voortrekker Ave & Paul Kruger St, Robertson

Thembalethu Store

170 Burwana Street Robertson, Nkqubela

Online

Paycity

Prepaid24

EasyPay